Top 5 Places in Anantapur that are a Must to Visit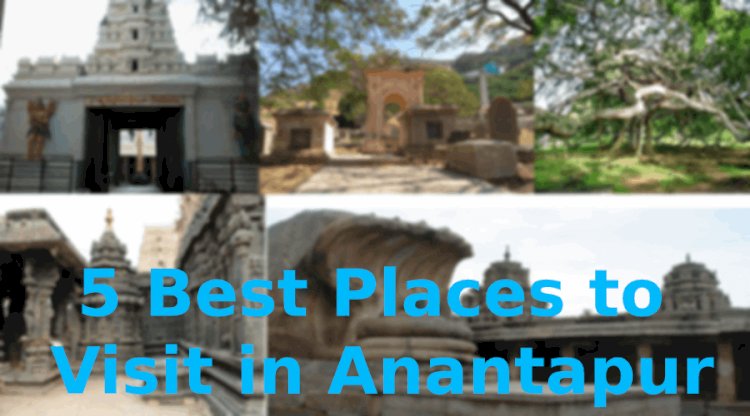 Every place weaves its tale and one should never miss the opportunity to hear it. Anantapur is one such place with glorious past withholding its cultural heritage. When one visits this place, they can sense the richness of history that it holds. Highlighting its significant past, Anantapur is developing into a real estate charm apart from its popular silk trade. Earlier, it was not considered as of much importance for settling or investing in chunks of land, after the entry of this eight largest automaker Kia Motors there seems an enormous growth of real estate. Be it investing in a plot or an apartment, one can enjoy the opportunity of settling in this place where it withholds a glorious past.
Also Read: Know about the History of Anantapur
Well, we will talk about this more at the end of this post and now lets dive into the best 5 places to visit in Anantapur.
Top 5 places in Anantapur that is a must-visit
1. Penukonda Fort
Penukonda Fort is the most popular attraction of Anantapur which is of no less than the ruins of Hampi. Penukonda means big hill, and this fort was concluded to have built by the ruler Vira Virupanna Udaiyar, the son of King-Bukka I of Vijayanagar. One can not miss the sight of the huge Idol of Lord Hanuman along with the 16th century Gagan Mahal inside the fort. The fort also houses numerous mosques and the 'Sher Khan Mosque' is a notable one. If you plan on for a small trek or want to enjoy a splendid historical journey, this amazing fort will leave you enchanted. Do not mind the scorching heat, load your backpack with water bottles, wear your cap and start your journey on those rugged steps to climb the fort.
2. Ravadurg Gooty Fort
A 7th-century architectural remnant that is still holding its charm in spite of its ruins which is indeed worth a visit. Situated on a slope in the Gooty town at an altitude of 300 meters, the word Gooty is acquired from the town's unique name, Gowthampuri. One of the oldest hill forts in Andra Pradesh which is in the shape of a shell rightly earns its name as the king of Forts. Do not forget to carry enough water when you trek through this fort in the hot sun and click some amazing pics in your DSLR when you enjoy the panoramic view of the land beneath.
3. Hemavathi
Once a capital place for Pallava kings, Hemavathi is an ancient and historic place. A repository of wonderful collections of Pallava and Chola architecture, Hemavathi fort houses several temples and among them, the chief is Doddeshwara Swamy temple, Siddeshwara Swamy temple, Virupaksheswara Swamy temple, and Malleswara Swamy temple. If you have a keen eye for historical marvels and magnificent ancient architecture of Cholla and Pallava dynasty, then head to Hemavathi and satisfy your historic quench.
4. Thimmamma Marrimanu
After an enjoyable ride through fields and little villages, one can reach a place that holds the largest banyan tree widespread across 5 acres of land. Wouldn't it be astonishing to hear that this tree is more than 600+ years and yet stands gloriously??? The biggest tree in South India, this tree was named after a woman called Thimmamma who committed sati after her husband's death and it has aroused a belief that childless couples will be blessed with a bundle of joy when they visit this place. In Telugu language, Marri means banyan and 'manu' means tree and that is why the tree is called Thimmamma Marrimanu.
5. Dharmavaram
Ask your woman about Dharmavaram, she is sure to put a curious face to why you are asking about it. Yes, a place that is famous for cotton and silk sarees which every woman stocks at least one saree in her cupboard. The sarees woven here has been traveling worldwide and bears a special attraction among Indian Women. Giving a great contribution in the weaving industry, Dharmavaram never misses attracting tourists. Sri Lakshmi Chennakesava temple and Ramalingeswara Temple located at Dharmavaram are timeless beauties that carry its architectural excellence through intricately carved sculptures and pillars. Do not miss to hear the musical notes that these pillars produce from Ramalingeswara Temple.
After looking at its top 5 marvels, we can say Anantapur backs a rich cultural background and architectural heritage always bathes the visitors a nostalgic shade of history. As discussed earlier, It is not only a great tourist destination but also a great place for investment. Anantapur is well connected to the cities around through all means of transport. The recent eye on Anantapur development by the government has paved the way for notable projects such as Kia motors entering this city. It is not only fuelling the employment development, but also a big real estate boom is happening around iscon temple, lepakshi temple, bio-Tech park, medical park, Puttaparthi airport and many more.
Why SkysAdobe?
SkysAdobe, a renowned builder who has been backed with immense real estate experience has come up with a variety of projects. We are offering luxury apartments and villa plots in Anantapur with different sizes to suit your investment needs. It is extremely important, that you invest in the plots or apartments sold by a reputed property developer such as SkysAdobe. Our main motto is to maximize investor returns on each project and our principals build trust and demonstrate integrity among our clients. The location of all our plots and apartments available for sale in Anantapur is conveniently located at proximity to hospitals, shops, Schools and all essential needs.