Kia Motors in Anantapur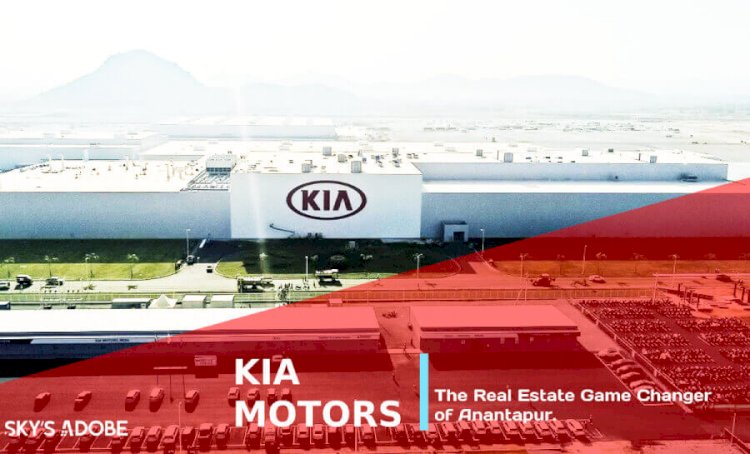 Kia, the eight largest South Korean automakers have got a long successful history from bicycles to motorcycles and to top-of-the-line model cars. South Korean giant 'Kia Motors' was first producing steel tubing and bicycle parts, and eventually entered the automobile sector. Being founded in the year 1944 as Kyungsung Precision Industry later changed its name as Kia Industries in 1952. The interesting meaning behind its name Kia is "Rising from the East", in which Sino-Korean characters "ki" means to arise" and "a" stands for East Asia.
Kia's Entry in India:
Anantapur, one of the most backward districts is no longer to be seen as one. A big sprawling plant of Kia motors was set up here in over 536 acres of land in Erramanchi village. After its successful entry in the Indian market in July 2019, they soon commenced their trial production at this plant.
Kia's new flagship car for India is an exciting new SUV based on 'the Kia SP2i' got its first premiere at India's Auto Expo 2018. With an investment of $1 billion dollars, Kia is planning on manufacturing 300,000 cars at this plant every year.
The once drought-prone Anantapur is now seeing a booming phase with over 3,000 direct and 7,000 indirect jobs.
Impact of Kia in Anantapur Real Estate:
Kia has instilled a great number of expectations in terms of employment as well as investment. Anantapur is always not being endowed with enough resources and hence there was not much development seen. However, Kia has created a huge demand for human resources which are to be trained and employed. Additionally, it has infused excitement in the real estate sector too. Once filled with barren lands and none of the realtors interested in laying any project has now become a hot spot.
This most globally recognized Real estate sector was not of a big charm for Anantapur but in recent times, there is a witnessing of high growth and the sole reason behind is Kia. There seems to be a big boom happening in the Real estate segment in Anantapur and many real-estate projects are coming up ranging from villa plots to luxury apartments.
Apart from purchasing a property for personal use, many investors are considering buying plots or apartments for investment purposes. It is a different strategic approach for investors in order to make smart choices that yield higher returns. The things that are considered here are the entry of Kia and booming market trends. Additionally, the market trends seeing an increase in demand for mid-segment and affordable housing after demonetization, GST and RERA.
Plots and Apartments for Sale in Anantapur:
The huge land parcels which are long-unseen are getting discovered now in Anantapur. With property prices sky-rocketing at the nearby cities such as Bengaluru and Hyderabad, Anantapur has grabbed the eyeballs of investors. When there is no luxury of buying land in cities, it is still affordable in Anantapur and there have been huge plots that are getting sold now.
Anantapur is not only present as an affordable real estate alternative for Bengaluru but there seems to be a great infrastructure improvement happening right now. Along with plots, builders are coming up with versatile housing projects to match the lifestyles of residents. Additionally, builders have incorporated the latest technology and other amenities such as 24 x 7 CCTV surveillance, swimming pools, power back-up, clubhouses, smart lighting, outdoor parks, gym, ATM, and several other amenities to bring in more convenience to the purchasers.
Planing to buy plots in anantapur please visit https://www.skysadobe.com/plots-for-sale-in-anantapur/
Why Choose SkysAdobe?
SkysAdobe firmly established realtors who have got a track record of numerous successful housing projects. Imprinting our indelible mark of architectural excellence across North Bengaluru, we have now entered the Anantapur real estate. Being a premium residential builder, we have come up with various housing projects hosting luxury apartments of different sizes to suit everyone's budget. Synonymous with "best in class homes", we are redefining the apartment living by providing various amenities such as gym, children park, walking place, clubhouse, swimming pool and more. A minute walk to schools, supermarkets, hospitals, and all essentials, our projects are carefully chosen to be laid on prime location. Distinct exteriors made out of high-quality materials speaks about our quality of work. That is not it, SkysAdobe has come up with various plots in prime locations that assure high investment value in the coming years.
Have a look at our projects and see the difference for yourself. Please visit our website for more information regarding our existing and upcoming projects.