Why "Anantapur" Has Become A Hot Real Estate Destination now?
If you are looking for real estate investment then check out why Anatapur has become the hotest real estate destination for residential and commercial realtors today.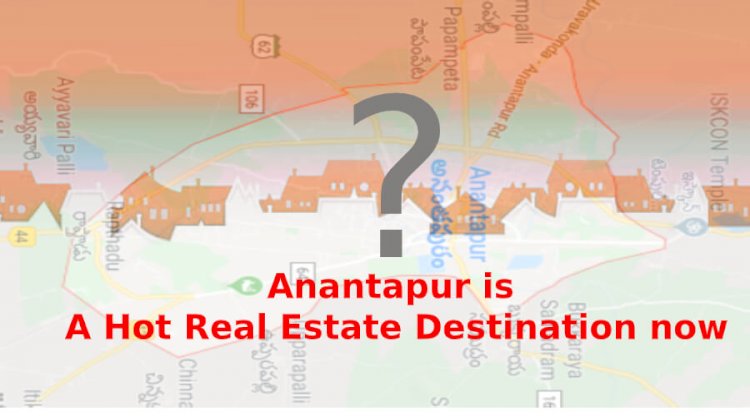 Over the years, real estate has always been a favorite investment option for investors. Owning a plot or an apartment in a destination that can prosper further would definitely bring in more financial profits. However, it still remains a pipe dream for many. Isn't it???
The perfect solution has arrived now, "Anantapur" is becoming an Investment hotspot allowing the aspirational middle class to take a foot towards bolstering their financial and personal portfolio. A surge in land transactions has already started happening here and according to a recent survey, Anantapur has reported more than 50% increase in land registration.
With so many signboards of "Plots for sale" and "Apartments for sale" propping up in Anantapur, it is now time to consider your choice of purchase here. But before doing so, It is obvious to get a thought in your mind to find out why "Anantapur" ???? when there are many big cities yet expanding their real estate investment boundaries.
Why "Anantapur" Has Become A Hot Real Estate Destination now?
The entry of Kia Motors: The splurge in real estate started when this South Korean giant automaker Kia Motors chose to build its factory in "Anantapur", Andhra Pradesh. Sprawling over 536 acres of land in Erramanchi village is transforming Anantapur and shaping it to be a hot real estate area. A region which has suffered drought most of the time with the lowest rainfall is now breathing fresh air with Kia. This world's eighth-largest automaker is ready to manufacture 300,000 cars every year at this plant. With over 3,000 direct and 7,000 indirect jobs started crawling up in Anantapur from Kia, the once drought-prone region is now becoming an investment hotspot. Many gated communities and plots have been developed and investors have already started eyeing on this region.
Strategic location and nearness to Bangalore: While this Silicon Valley of India has seen heights in real estate, the drought-like conditions in vast parts of Bangalore and the government's thought towards a 5-year ban on new apartment construction has jerked the real estate developers. Investors always consider the 'location' factor as one of the important criteria while choosing an investment area. Through Anantapur has not been of a great location in the past, its nearness to Bangalore and Bangalore's new unfavorable real estate conditions are forcing the investor's eye to layover Anantapur.
Better connectivity: A better road and rail connectivity is available to Anantapur from any of the places in India. Regular rail and bus services are plying to and fro the city of Anantapur. Both private and Andhra Pradesh Road Transport Corporation are operating buses for the convenience of the public. Though there is no direct air connectivity to Anantpur, it is conveniently located at only 190 km from the Kempe Gowda International Airport in Bengaluru, which is the nearest airport that connects Anantapur through the air to the rest of India.
Apartment in uber-chic locales comes with a steep price? Or the plot that you have selected accompanies no clear paperwork?
If you are hoping to make an investment with all proper paperwork then be ready to face a deluge of challenges.
Do not worry when this renowned builder SkysAdobe is there.
SkysAdobe projects are conveniently located in a strategic location and not to say about its proximity to markets, Hospitals, Schools, and all essentials. The plots and the apartments are chosen in the areas after a careful analysis where there are a good water supply and quality roads. We have come up with residential plots at different square feet for the convenience of sm
all budget investors to enjoy ownership of plots. Also, all our apartment projects come with 2 and 3 BHK luxury apartments at budget-friendly rates.
Why don't to have a peek at our newly designed website https://www.skysadobe.com/ to learn more about us and join hands with us. Voila .....Its time to get your own keys to the ultra-modern 'la Maison' at Anantapur.