20 Easy Vaastu Changes When You are Staying in a Rented House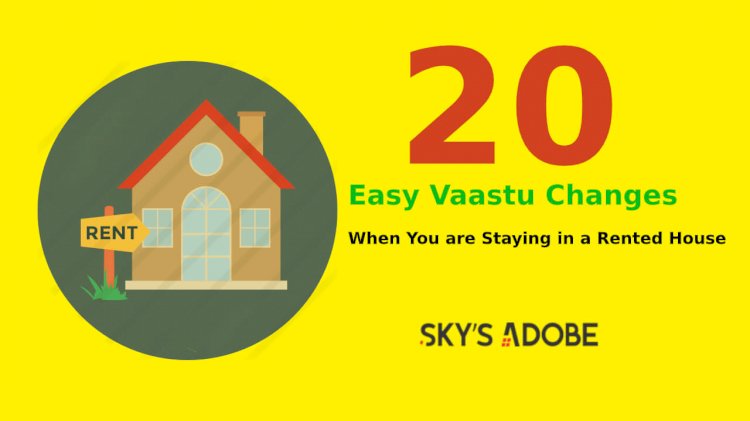 You are moving to 'buzzing Bangalore' for your new job and quickly looking for a rental home. Surprisingly, you got a house that fits under your budget and is pretty near to your office. However, it is not a Vaastu compliant house. So, what do you do???
You picked a ready to move in house where you can't do any alteration to the architecture still in a compulsive position to occupy. Dwelling in a Non-Vaastu house sure does have its obvious side effects but you can reduce its negativity too much extent by following these simple changes.
Before we peep into the changes, let us explain to you what Vaastu is all about and why one should opt for a Vaastu compliant house always.
Vaastu and its Benefits:
Vaastu is an ancient science for architectural designs which unifies the five elements – earth, water, fire, air, and sky to bring complete harmony in the place where you are living. Experts quote that the fundamental idea of Vaastu is to bring in positivity inside your home and add value to your life.
Each and every Vaastu principle is backed with a strong scientific reason so it is essential to always buy an apartment that is 100 percent Vaastu compliant. That is the reason, high-quality renowned builders always plan their layout and each apartment to comply with Vaastu principles. SkysAdobe is one such renowned builder who is offering luxury apartments and villa plots in different sizes to suit your investment needs which are 100% Vaastu compliant. In fact, there is a separate Vaastu consultor being appointed for each individual project to work along with engineers while designing the layout and houses.
20 Easy Vaastu Changes when you are Staying in a Rented House
We know you are in a situation to not be able to make any big changes at the moment, however when you plan on buying a home for yourself never compromise on "Vaastu" because this Vedic science is what brings happiness, peace and wealth while you live in your cozy nest.
For now, we will look at the simple and easy changes that you can do to your "ready to move in house"
Even though you can look at big architectural changes, just see whether the number of doors and windows is even in the house.
If there is a naked wall in the entrance, it represents loneliness. Why not place a Ganesha statue to conceal it ??? Even sticking a Ganesha picture works fine if you can't nail the wall.
A picture or painting of a rising sun hooked in the east direction gives healthy social relations.
If you are the one who stores things under the bed, it's time to remove it. Since, this clutter weighs you down and keeps your mind connected to the past, without allowing you to move forward.
The best location of the bedroom should be south-west direction because it enhances the relationship bond.
Love aquarium??? Why not place a fish aquarium in the north-east direction of your home to enjoy reduced negativity?
Green plants kept in the east direction bring healthy relations.
Hang a picture of a scenery depicting a long road in the North-East direction for good vision and planning.
Make sure the bedroom is not dark also avoid those housed with dark colors painted on the bedroom wall.
Red galloping horses' picture in the south direction can bring a steady flow of money and harmony.
Pyramids, an effective solution for removing all the vastu defects of your house. Install it in the strategic location such as the center of the house, a particular room or even an energetic key point.
Natural green plants or candles kept in your bathroom will clear all the negativity and bring brightness in your life.
The best place for meditation is the Northeast direction as it enhances spiritual growth.
Your kid's study table placed in the east direction for improves their memory and helps them to score well in their studies.
Look whether there is a maximum distance between gas and sink in your kitchen.
Lay a single mattress instead of two separate mattresses on your cot, for a healthy marital relationship. Also, the wife needs to sleep on the left side of the husband.
To bring harmony in your house, place a small water fountain in the north-east direction.
Family photographs stuck in a yellow or golden frame and nailed in the south-west direction will enhance healthy family relations. You can hang a painting of sunflower too.
Look for water boring, if it is located in the wrong direction then hang a picture of Panchmukhi Hanuman, facing South-West to the boring.
Last but not least, do not sleep in any direct alignment with sharp corners as it creates stress in your body's nervous system.
Why Always Vaastu compliant home and Why SkysAdobe?
SkysAdobe has built many innumerable projects in North Bengaluru and now they are developing 2 and 3 BHK flats in Anantapur with a wide range of amenities and services to make your life convenient. We build 100% Vaastu compliant apartments that come with all needed facilities such as lifts, 24/7 power backup, 24/7 security, and Car parking. An ideal balance between aesthetics and functionality has always been maintained to create luxury homes that you will be proud to own. All our flats available for sale in Anantapur are located at a strategic location where the occupants can have easy access to transports, shops, hospitals, and all essentials.