Why buying an apartment in Bangalore is a good investment for the year 2020?
Bangalore become the most favorable destination for many real estate investors check out what policy changes and government initiatives brings such opportunities.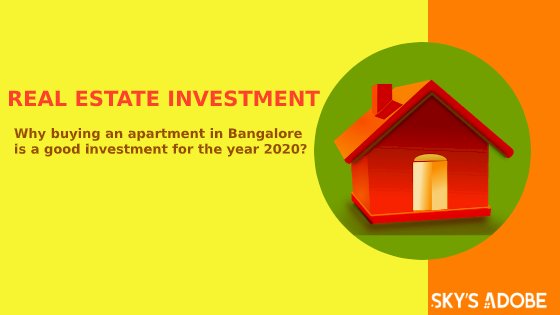 Just a decade earlier, buying a home was considered an emotional decision. Isn't it? But now, many purchase apartments for the sake of investment. However, the recent policy changes that have been implemented by the government have left the builders to face insolvency.
Yes, the most lucrative sector is facing turmoil now and that seems to be a big boon for buyers and investors as it is presenting some new and never-seen opportunities.
Why buying an apartment in Bangalore is a good investment for the year 2020?
'Purchasing a property to make a profit' is not new to us and that is what is shaping our history since time immemorial.
Many might ask why I have to buy an apartment now???? Because of the non-favorable situation prevailing in the real estate sector but we say "yes now". Let's see why???
Residential property Price Fall: Residential property rates have reduced considerably to help us enjoy a larger property at a lesser price. With the introduction of RERA, GST, and Demonetization, real estate has stumbled itself. Many properties are held up and were not sold. You can consider this opportunity as a big plus, investors and homebuyers will enjoy lesser rates now.
High Tax Benefits: When you opt a home loan, it definitely will help you in a tax deduction. With the 2019 budget in order, there is an additional rupees 1.50 lakh deduction on the home loan interest component when you buy a house priced below Rupees 45 lakh. Wouldn't it help the buyers purchasing affordable property??
Ample properties to choose: With project delays happening everywhere, many potential investors and buyers are discouraged. Though there is a staggering situation in the real estate market and many properties are still unsold, how about taking this to your advantage???? Many ready to move in apartments are left out and you can easily pick an apartment of your choice and budget.
Low-interest rates: The RBI has decreased the repo rate at a five year low of 5.40 percent which subsequently led the banks to revise and reduce the home loan interest rates. The current interest rates for a home loan is ranging from 8.30 to 9 percent. To trigger more sales, banks are offering discounts from time to time by still reducing the interest percent.
Better negotiation: With many ready to move in apartments not getting sold, builders are open for negotiation. In this market condition, you can enjoy a better price reduction and many additional perks when you use your communication skills wisely. In fact, many builders are offering apartments by finishing woodwork at their cost.
Bangalore has always been a better place for investing since economic growth is faster here. Homing many giant IT companies and multiple start-ups, it has been a favorite pick for many professionals. Many young investors are also looking for budget apartments since they feel paying EMI is better than paying rent. Even if they move out of the city, they can rent it out with steady money coming out of it. It is always considered a better option to buy an apartment than buying land or an independent house, as it is safer and present way more opportunities. Especially, at this market condition and in the year 2020, it proves to be beneficial for home buyers and investors when they purchase a cozy apartment in Bangalore.
Why Skysadobe?
SkysAdobe is deeply involved in the creation of the finest infrastructure and endeavors to create quality homes and co-working spaces. We always aim to provide innovative projects of the highest quality standards delivered from the hands of talented architects and designers. We have successfully demonstrated our excellence by completing a variety of projects on time, using high-quality materials, while adhering to the most stringent specifications and housing requirements.