What is a Gated Community? Learn about its Pros and Cons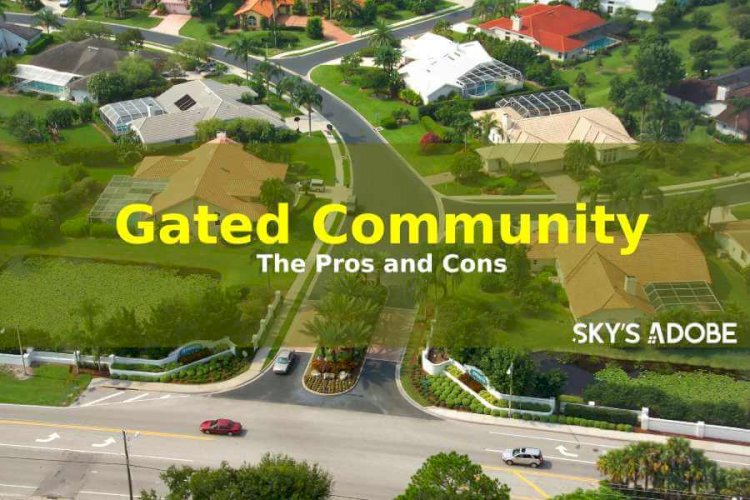 If you are considering moving to a gated community or buying a house in a gated community then you're probably not alone. The gated community has increasingly become popular in this modern era. Rather than living in an independent house, many urban people are preferring a gated community where they get all the perks in a safe and secure environment. With increasing nuclear family culture and sheer lack of time among city dwellers, the Gated community is the first choice for enjoying a quality living that rekindles the traditional charm of community living.
Before we dwell more upon its pros and cons, let's see what gated community means
What is a Gated Community?
Typically, a gated community offers a great social life bundled with a quality residence. The gated community comes in many different sizes as well as in different prizes encompassing all the amenities such as gym, walking track, tennis court, entertainment areas, kid's play area, clubhouse, swimming pool, and more. Some bigger communities come with a grocery store, medical store and an ATM facility. However, small communities may not fully satisfy all these amenities but will include only the essential ones such as lift, power back up and security.
Pros of Gated community:
The gated community is considered a boon among city people as they provide lots of benefits.
Standards of Safety and security: Even the smallest gated community comes with CCTV monitoring and 24 hours security. Monitored entrances and common area removes your fear of safety. There have been many apps that help the gated community to have a check on who is visiting your house and asking for approval before letting them in. Security personnel guarding your apartment 24 hours and also with CCTV, it will evade your fear of burglary.
Opportunity for Social interaction: With increasing traffic and road congestion, it becomes the toughest task to even walk a few minutes from our house to the nearest park. In a gated community, you don't need to dress up and go out for social interaction. Just get down with your gym pants and take a stroll along the walking trails…et voilà, you are already talking to few people.
Kid's friendly place: A better parenting is obviously tough and when it combines your stay in an independent house it becomes even tougher. Isn't it??? In a gated community, your kids will have many friends and they can safely play with them in a common area. Unlike an independent house, you don't need to accompany them to where ever they go. Also, gated communities have different classes taking place in the clubhouse such as art class, karate class, tennis class, swimming class and more. You can enroll your kids in these classes within your community and be safe as no outsiders will be permitted.
Comfort and luxury: You are not traveling a long distance on a bumpy road on your two-wheelers to a gym for a half an hour running on a treadmill. Just a few minutes in the elevator, you will be reaching the gym. A well-maintained garden with lush greenery, cleanly maintained gym, Solar water heating facility that cuts on your utility bills, Power back up to ensure uninterrupted power supply and an array of conveniences at a stone throw's away distance makes you feel like living in heaven.
Cons of Gated community:
As with lots of pros, there are still cons accompanying the gated community.
Maintenance fee of amenities: With the increasing luxury of enjoying all the amenities, you are entitled to pay a hefty amount of maintenance fee every month. Yes, the advantage of living in a gated community comes with a prize. Often, your contributions cover, lift maintenance, security guards salary, landscaping services, swimming pool maintenance and repair, common area electricity, etc. Even though you might not be using few amenities still you will be paying the amount for their maintenance.
Rules and Regulations: When you live in a gated community, there are certain rules that you need to follow. Though it varies from one gated community to another, mostly they will be like trash not left out for several days in a row, no drilling or installation activity at your home after 6 pm, no gym usage after 10 pm, etc. These rules and regulations are implemented for a better living but if you are a person who dislikes such rules then gated community might not suit your living.
Higher home cost: Generally the house cost is on the higher side when it comes to these additional costs and so is the rent. If you are planning to buy or rent a home in a gated community, you will be paying more cost.
For many people, the advantage of the gated community will easily outweigh the disadvantages because of the digitalized and stressful living. However, each individual's requirement is different and one needs to make a careful decision after weighing its pros and cons. Take a closer look at your requirements and then choose a house as per your choice.
SkysAdobe's Apartments in Gated Community at an affordable price:
SkysAdobe, a renowned builder who has been backed with immense real estate experience has come up with a variety of gated community projects in Anantapur. It is not pretty new to us, we have successfully built many gated communities in Hebbal, Bangalore that perfectly suited every need of our clients. Now, we are offering luxury apartments and villa plots in different sizes to suit your investment needs which are 100% Vaastu compliant in the next booming place, Anantapur. It is extremely important, that you invest in the plots or apartments sold by a reputed property developer who follows Vaastu guidelines so that it brings prosperity to the buyer. Our main motto is to maximize investor returns on each project. Our principals build trust and demonstrate integrity among our clients. The location of all our plots and apartments are carefully selected as per Vaastu guidelines and are conveniently located at proximity to hospitals, shops, Schools and all essential needs. Do not worry, all our apartments come in budget-friendly rate so that it helps you to enjoy the luxury without denting a hole in your pocket.