5 Benefits of Co-working Space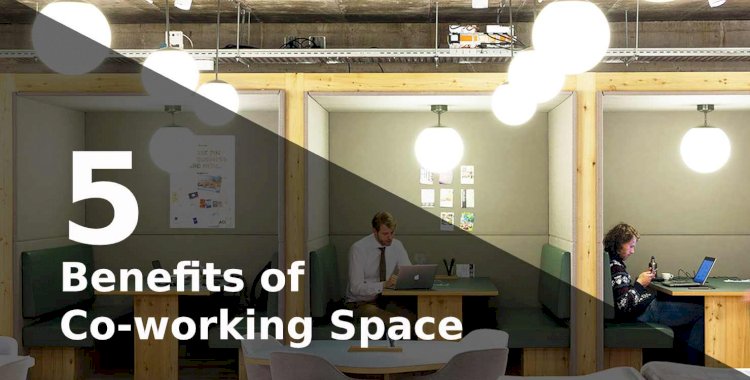 You might have often heard the term 'Co-working Space', so what is the fuzz that it all hold? When the work from home culture increased among IT employees, it not only benefited them but also their organization. That is indeed great, what about productivity??? Yes, it too had its own disadvantages…One has to stay organized, plan properly and evade any disturbances that they face while working from home.
Work from home scenario is not the only trend that showed a promising path to the thriving of Co-working space, also the increasing freelancer's population. Organizations are preferring to hire freelancers as they see a considerable amount of cost reduced while enjoying the quality work.
Think of startup founders, will they have enough budget to be allocated to buy or rent a private office ??? With the constraints of their limited budget, Coworking space gave a solution by evading a large sum getting bunked in an office.
We have seen all the important factors that forced the growth of 'Co-working Space'. Before diving into its benefits, we will see a brief summary of what 'Co-working Space' is all about
What is 'Co-working Space'?
People can rent desks for a specific period ranging from limited hours to days to even months for their working purposes without compromising the benefits available at the workspace.
5 Benefits of Co-working Space
Though the co-working space concept was not new to us, it is interesting to note that only the last few years contributed to its significant growth and you know why?
1. Increased Productivity
Imagine you are working from home all alone with no company to share your thoughts or sitting at a stuffy corporate office with lots of buzzing noise, will it going to increase your productivity??? Now, think of working at a corporate structure where you get the peacefulness of the home as well as people to network with. Wouldn't it be great??? Being surrounded by like-minded people would obviously give you that extra motivation. That is not it, you will not be forced to work in limited access like home instead can enjoy all the professional amenities such as fully equipped conference rooms that allow you to make the right impression with increased productivity.
2. Save your Purse on Office Expenditure
Running a petit business or being a freelancer is not all that fun, you need to face overhead costs and look for cutting few. As a freelancer, when you choose a co-working space, you are saving on many costs such as utility bills. Everything is ready, just bring your laptop and start working. Young entrepreneurs can save a ton of cost on setting up a fresh office when they start using a co-working space.
3. Flexibility with Different Plans
The co-working space comes with many flexible plans such as booking a private cabin for a day or for months, conference room for hours and more. That is not it, you can book a seat on a monthly or hourly basis with many facilities such as High-Speed Internet, Complete Electric / UPS / DG Setup, Highly Secure Premise (Multi-Layer Security) and Cafeteria / Tea / Coffee. They have different plans for different needs and some allow you to customize your own plan too.
4. Diversity to Gather Insights
Think of a traditional office, where only members of the same company work and all you gain is the knowledge about the specific company that you are working in. When you work among the employees of a wide range of companies, you gain better insights. Isn't it? You get the opportunity to collaborate with like-minded professionals from different industries and end up with an enhanced knowledge circle.
5. New Business and new Opportunities
As a young entrepreneur, you always look for opportunities to bag new clients and new businesses. Co-working space gives you this benefit by allowing you to bolster your business by fostering connections. It has been a proven record of freelancers and young entrepreneurs of co-working space to have seen an increase in new clients due to the relationships they've established here. When you gain more exposure by getting among diverse group people, you not only find new people to work with but also of potential clients to improve your business. That web designer you've been looking for months……might just be sitting right next to you!!!!
Remember……all these benefits can entice you only if you choose the correct Co-working space. SkysAdobe's Co-working spaces are designed with an electric atmosphere that instills energy and excitement among occupants. They can enjoy all office-like amenities such as private meeting rooms, hot-desks, coffee and more. One of the biggest advantages of our co-working spaces developed by Skysadobe is its cost-saving nature. We allow the flexibility of choosing from desks to offices or even entire headquarters at different cost-saving rates.