What are the Prime Areas in Bengaluru for Tech Parks?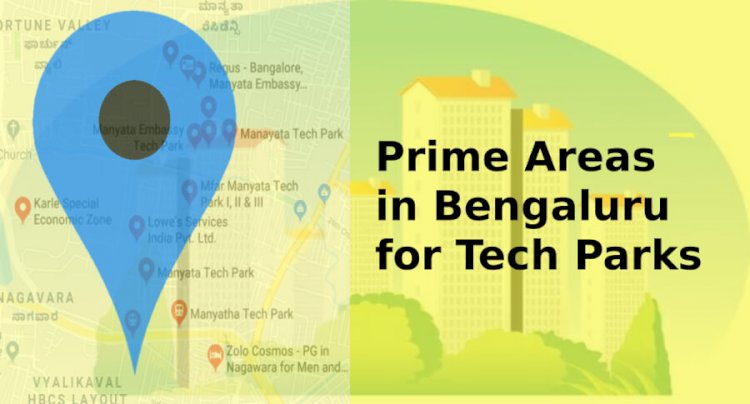 Bengaluru, the IT hub of India, is popular for renowned tech companies, established businesses as well as Start-ups. Being heaven for job seekers and entrepreneurs, Bengaluru is always offering growth opportunities in career for aspiring individuals. It is not the career opportunities but also the weather and affordable real estate that is driving more people from different corners to settle down here.
Why People are Looking for Houses in Prime Areas Near IT Parks?
We all know how famous Bengaluru traffic is….and in spite of carpooling, metros and all other facilities still it takes hours to commute from one place to another. That is the reason for many looking for houses near their office so that it saves much of their commuting hours. With immense IT population thriving here, they are preferring to buy apartments near Tech parks. Also, another reason why people are preferring houses near tech parks is that it will fetch a good rental income too.
What are the Prime Areas in Bengaluru for Tech Parks?
Bengaluru has always been a favorite city for many IT employees. Apart from chill weather and immense career opportunities, there are some fantastic locations to purchase a house and settle down. Here we are going to look into the prime areas in Bengaluru for Tech Parks.
Hebbal: Located on the northern side of Bengaluru, Hebbal is pretty close to Bengaluru Airport. The famous Manyata tech park is located here and an ideal location for purchasing apartments. Hebbal houses a number of residential complexes apart from commercial IT parks. In recent times, Hebbal is the most preferred location for many people since there is better connectivity to the airport through Hebbal Flyover and great facilities needed for a modern lifestyle. That is not it, proximity to renowned schools, Malls, hospitals are even an added advantage for those dwelling in Hebbal.
SKYSADOBE is Providing Coworking Space in Hebbal, Bangalore.
Whitefield: Just 5 years back, Whitefield was booming a lot and more residential complexes started propping up. Several offices are still located here and many leisure establishments are already there. Now, the real estate prices are a little high comparing to Hebbal because of its connectivity to other areas and being the main junction between Hyderabad and Vizag.
Marathahalli: Marathahalli, Sarjapur, Bellandur stretch have seen a great infrastructure rise as well as a rise in Real estate too. Major It hubs are located here and this location is already overflowing with the IT population. Several schools, colleges, Malls are located in this place and is one of the prominent locations of Bengaluru.
Electronic city: A renowned IT hub located in south Bengaluru is Electronic City. It is widespread with four phases and housing 200+ IT companies. A lot of PGS, food joints and better connectivity are specialties about this area.
out of all the prime areas Hebbal is hitting the top place. Why because? The other areas have already developed and are filled with lots of residential properties. Also, the cost-wise, they are all on the higher side than Hebbal. Additionally, most of the companies have already shifted their base to Manyata tech park because of less cost and more space. Real estate started booming and many renowned builders are building luxury apartments with lost facilities that come in pocket-friendly rates. If you are considering buying an apartment now, Hebbal is a perfect choice.
Why Skysadobe?
SkysAdobe is deeply involved in the creation of the finest infrastructure and endeavors to create quality homes and co-working spaces. We always aim to provide innovative projects of the highest quality standards delivered from the hands of talented architects and designers. We have successfully demonstrated our excellence by completing a variety of projects on time, using high-quality materials, while adhering to the most stringent specifications and housing requirements.